Robot Journalist - Assignment: Afghanistan?
OK. I missed this when it came out a few weeks ago, but I couldn't keep it to myself: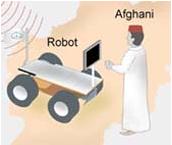 A team of MIT computer engineers has created a robotic journalist, designed for use in hazardous areas such as the war-torn Middle East. Now, as the "Afghan eXplorer", they want to send it to Afhanistan, saying "nothing is too dangerous for a robot."