Percy, Go Home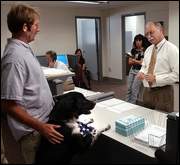 Two weeks ago I posted an item on Percy the Dog's election bid for Congress in Florida. It is with great sadness that I inform you that Percy will not be allowed to run. Her owner, Wayne Genthner, will run in her place, but I suspect it will be Percy who will lead the way down the campaign trail.
Percy barked loudly when veteran elections official Ed Kast told the dog's owner, Wayne Genthner, his dog didn't meet the state's elections requirements.
Thanks, Mom!
The quote is from the wire story at the NY Times (you can use "songdog.net" as username and password for this NY Times story).
The photo is by AP photographer Phile Coale, and was found at the Sarasota Herald-Tribune's HeraldTribune.com.